Al Gore. Yum. I AM AOL!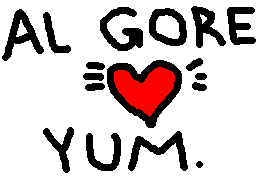 ---
HELLO. MY NAME IS GRETCHEN BUT I PREFER TO BE CALLED "FLUFFY". SOME OF MY HOBBIES ARE TO CHAT ON AOL. I LOVE AOL. I HAVE 76 BOYFRIENDS ON AOL. ALL I DO IS CHAT WITH THEM. I GAVE ALL OF THEM MY HOME ADDRESS. ISN'T THAT FUN!
BUT MY FAVORITE HOT GUY IS AL GORE. ISN'T HE SO CUTE? I HAVE 382 PICTURES OF HIM CUT OUT AND GLUED TO MY WALLS. EVERY NIGHT I LICK EVERY SINGLE ONE OF THEM. BECAUSE I AM FLUFFY! AND HE IS SO HOT.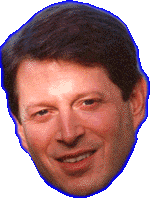 THIS ON MY PAGE YES IT IS INTERNET! I AM THE INTERNET! AOL IS THE INTERNET! I AM AOL!
I COLLECT PLASTIC HORSES. THEY COST $30 A PIECE. I LIKE KEN DOLLS! I LIKE THEM LOTS!
MY FAVORITE COLOR IZ PURPLE CAUSE THATS THE COLOR OF MY SPANDEX PANTS THAT I WEAR EVERY DAY. WHEN I GROW UP I WANT TO TEACH A JAZZERSIZE CLASS.
I LOVE AL GORE!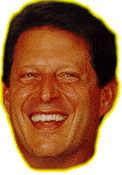 TODAY I AM GETTING SOME MORE INTERNET. HE BOUGHT SOME INTERNET FROM THE INTERNET STORE AND TOLD ME THAT I CAN MAKE AN INTERNET OF MY OWN. HE BOUGHT THE INTERNET ON A DISK. I HAVE A DISK WITH THE INTERNET ON IT. IT IS AOL. MY BOYFRIENDS ARE Y2K.

~~~~~~~~~~~<3~~~~~~<3~~~~~~~~~<3~~~~~~~~<3
---