Cheer Up, Unabomber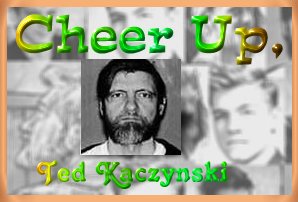 ---
OMG remember the Unabomber? That's so 90's. Let's show Ted Kaczynski that we didn't really forget about him. Wait, is he even still alive? What a freak. You have to love a good freak now and then.
Theodore Kaczynski
Federal Register Number 04475-046
United States Penitentiary -- Adminstrative Maximum Facility
PO Box 8500
Florence, Colorado 81226
That's right! Now you, too, can send various things to Mr. Kaczynski. Follow the links below for some ideas, or the full manifesto.
---
101 Fun Things To Send To Theodore Kaczynski
How To Tell A Suspicious Package From A Normal Package
Click Here To Read The Entire "Unabomber's Manifesto"
---